Community Links
Our school takes part in supporting Initial Teacher training. Here is a link to a film which describes a teacher in training and her experience of this through the Schools Direct Programme at Parish Church Primary School: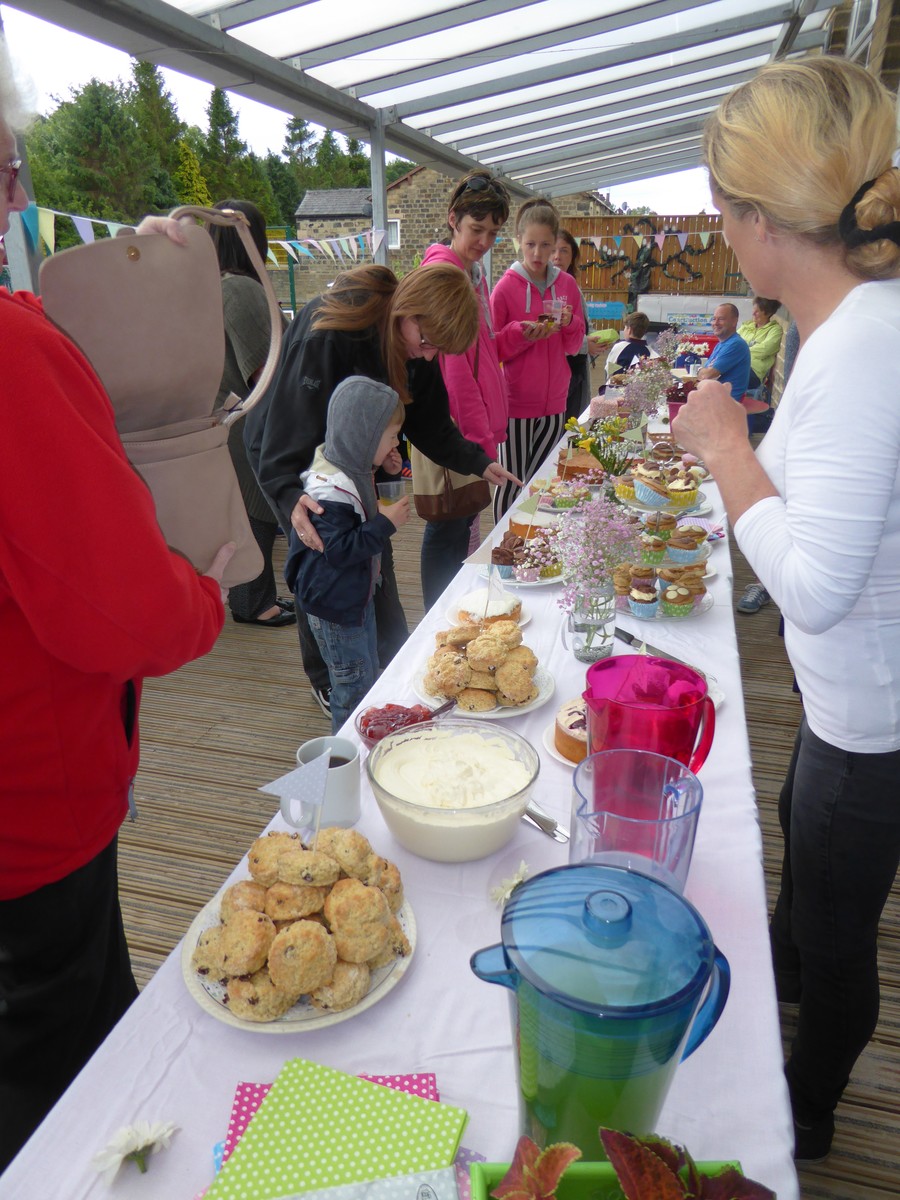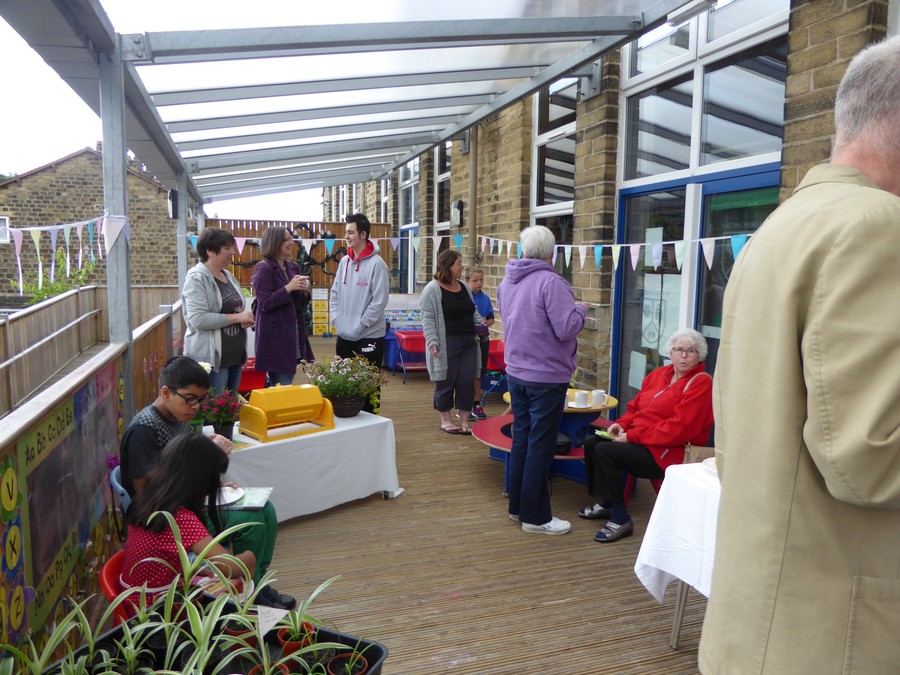 Community Coffee Morning
Our community Coffee morning was a huge success on Saturday 18th July 2015. Cakes we donated by local supermarkets and shops. Our thanks go to Marks and Spencers, Morrisons and Tescos for their generous donations of cakes. It was a great chance for everyone to network and see the developments on our playground.
Road Safety Awareness Week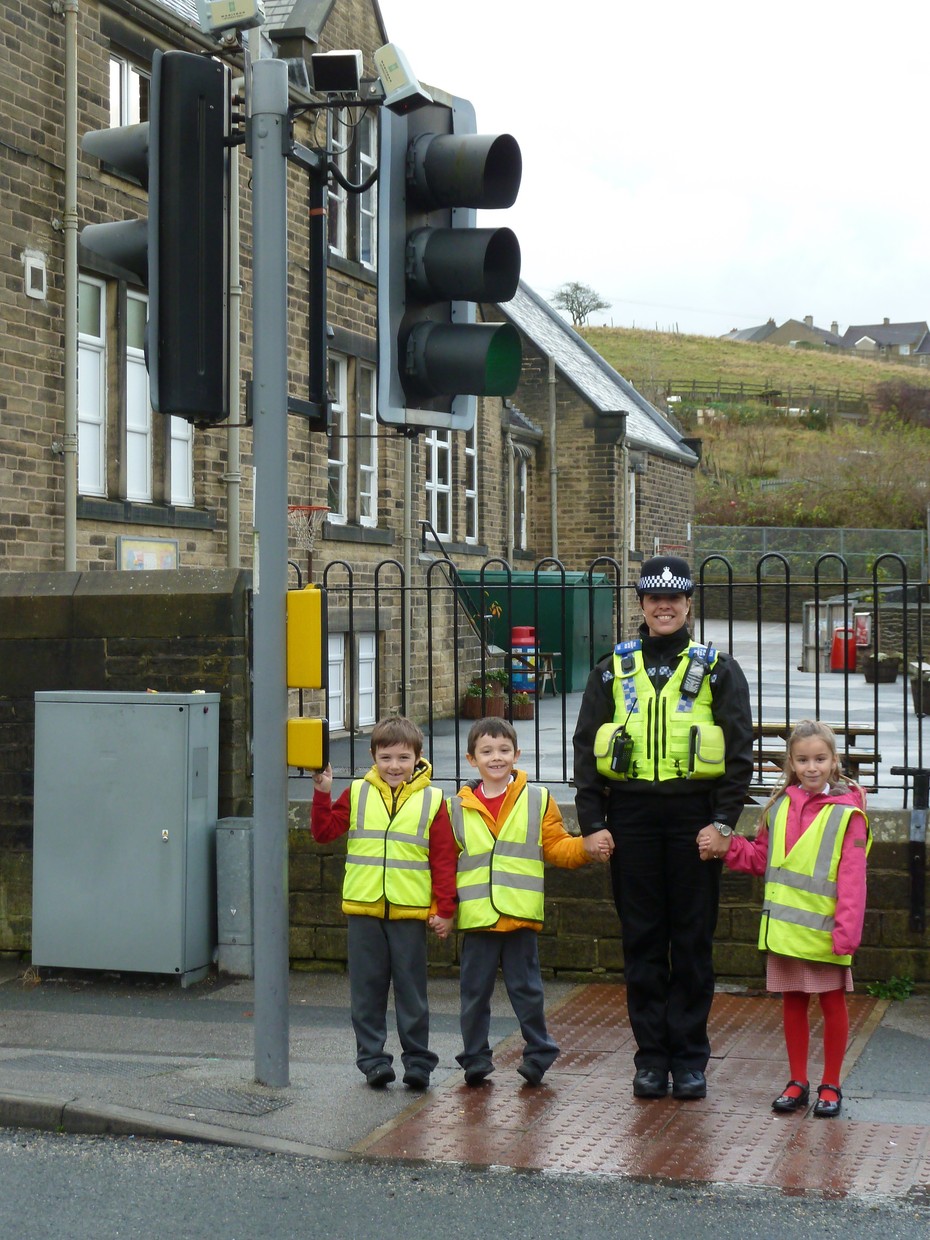 PCSO Sally Breen attended our recent Achievement Assembly on Monday 17th November to support the launch of our Road Safety Awareness week. Pictured here Sally is showing the children where it is safe to cross the road.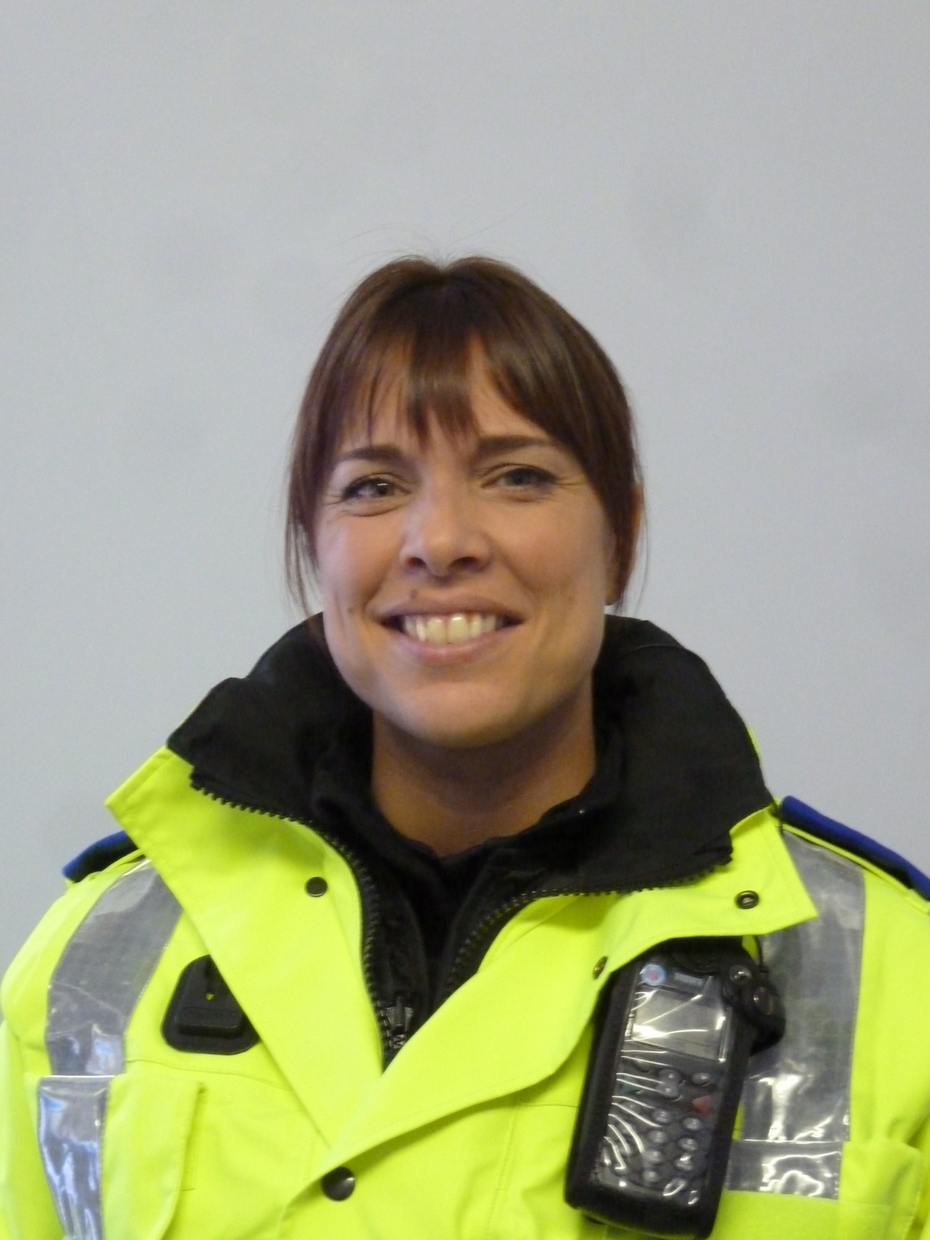 PCSO Sally Breen is our school link officer. Sally comes into school to talk to our children about any issues regarding safety. In December, she came into school to talk to children about asking their parents to park safely on the road outside school. In the Spring Term, Sally was involved in e-safety workshops for parents and children.
Our Litter Picking Challenge
Our School Council and Year 5 Young Leaders have completed a litter picking challenges, which has continued into the new school year with more volunteers coming forward to take part in keeping our local environment litter free. We have been litter picking, at least once a fortnight, to help our environment and reduce the amount of litter locally. We have been working in the immediate area around school on Neville Street and Montgomery Street, Devonshire Street and the Ginnel Area.
Litter pickers from our Year 5 class can be seen here visiting the Skipton Wilderness area to do a litter pick and litter survey, just before Christmas.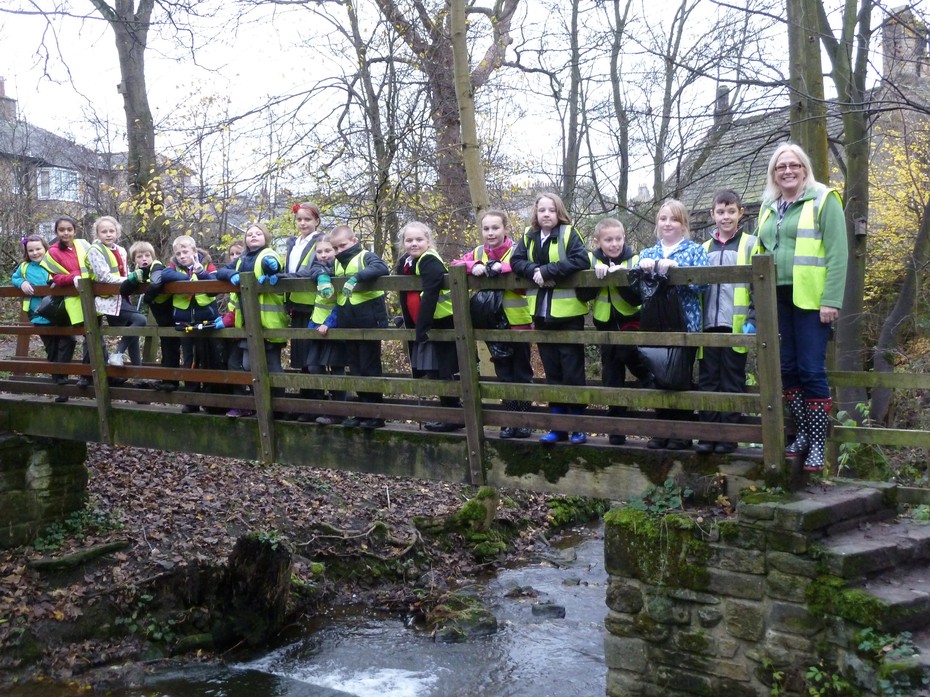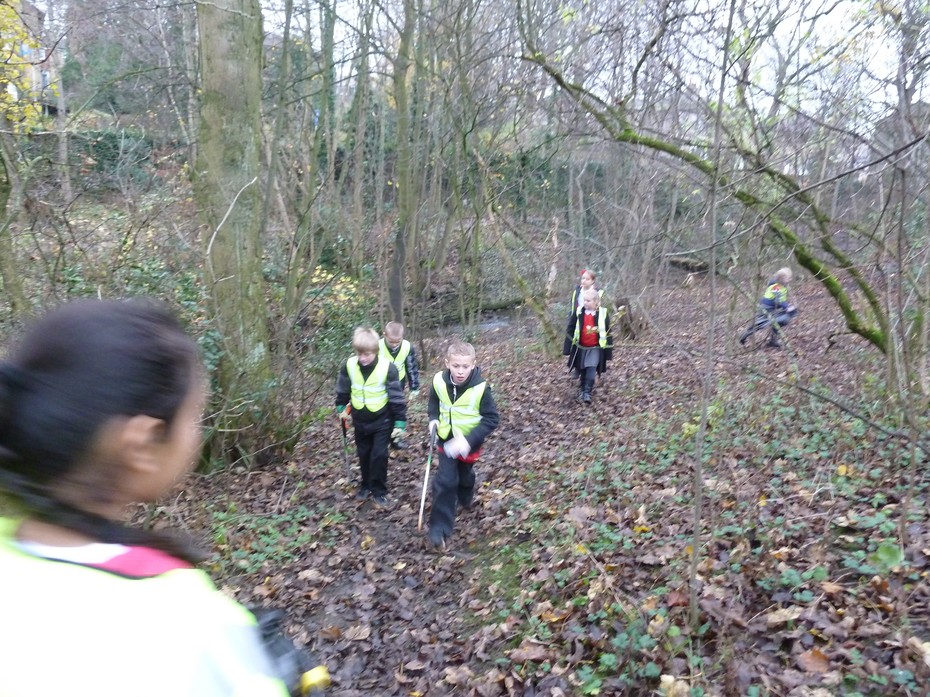 Well done children!
Skipton in Bloom winners 2015
Our school entered the Skipton in Bloom best school garden award and we won the Gold Award for three years running (2013, 2014 and again in 2015. Here are some of our children attending the 2014 ceremony to receive their certificate. Certificates are displayed in the school hall outside Emerald class.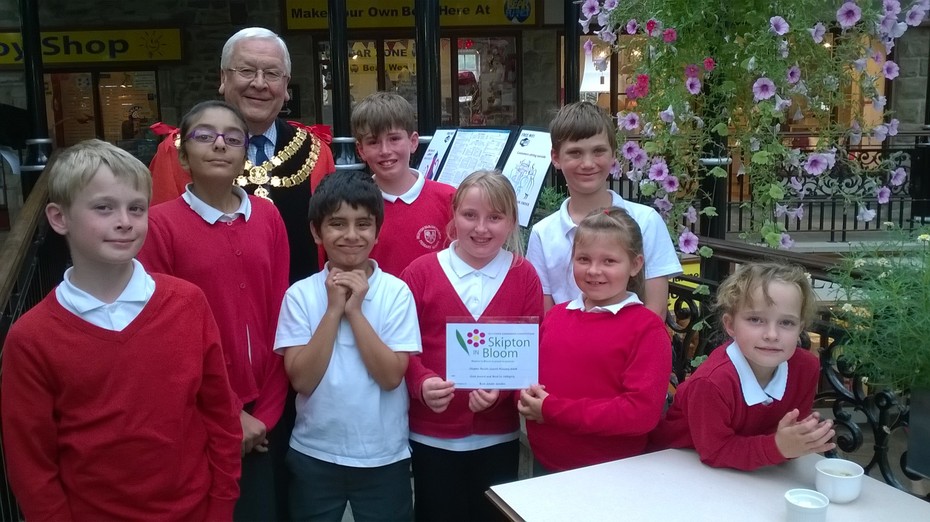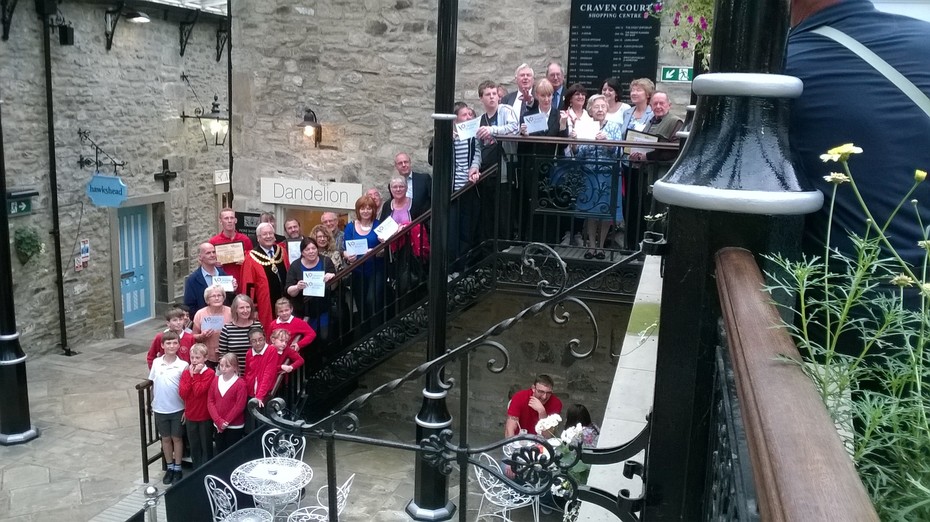 Here are all of the prize winners from the different categories. Well done to Brooklands School for receiving the runners up award.
Craven Nursing Home and Skipton Building Society Christmas Visit
Children from Year 3 and the choir visited Craven Nursing Home to sing carols and recreate the Nativity tableau for the residents. On Tuesday 18th December they visited Skipton Building Society to thank the staff for their help in school by showing them the tableau and singing carols and were rewarded with a visit from Santa who presented everyone with a chocolate selection box.
Children in Need Charity Event
Every year we hold a non-uniform day and dress up for children in Need. Here you can see some of our children dressed in their bear onesies; some children dressed in yellow; some children wore their spots and others wore their favourite clothes. On both occasions children raised nearly £200 for the Children in Need Charity. Well done, everyone!
We are so proud of the generosity of our families. Thank you.
Autumn Watch Open Day
Click here to find out more about our Autumn Watch day on Saturday the 12th of October from 10.00am - 1.00pm. each year we celebrate and take part in trails and treasure hunts, arts and crafts, gardening activities, bread making and see animals or birds of prey displays.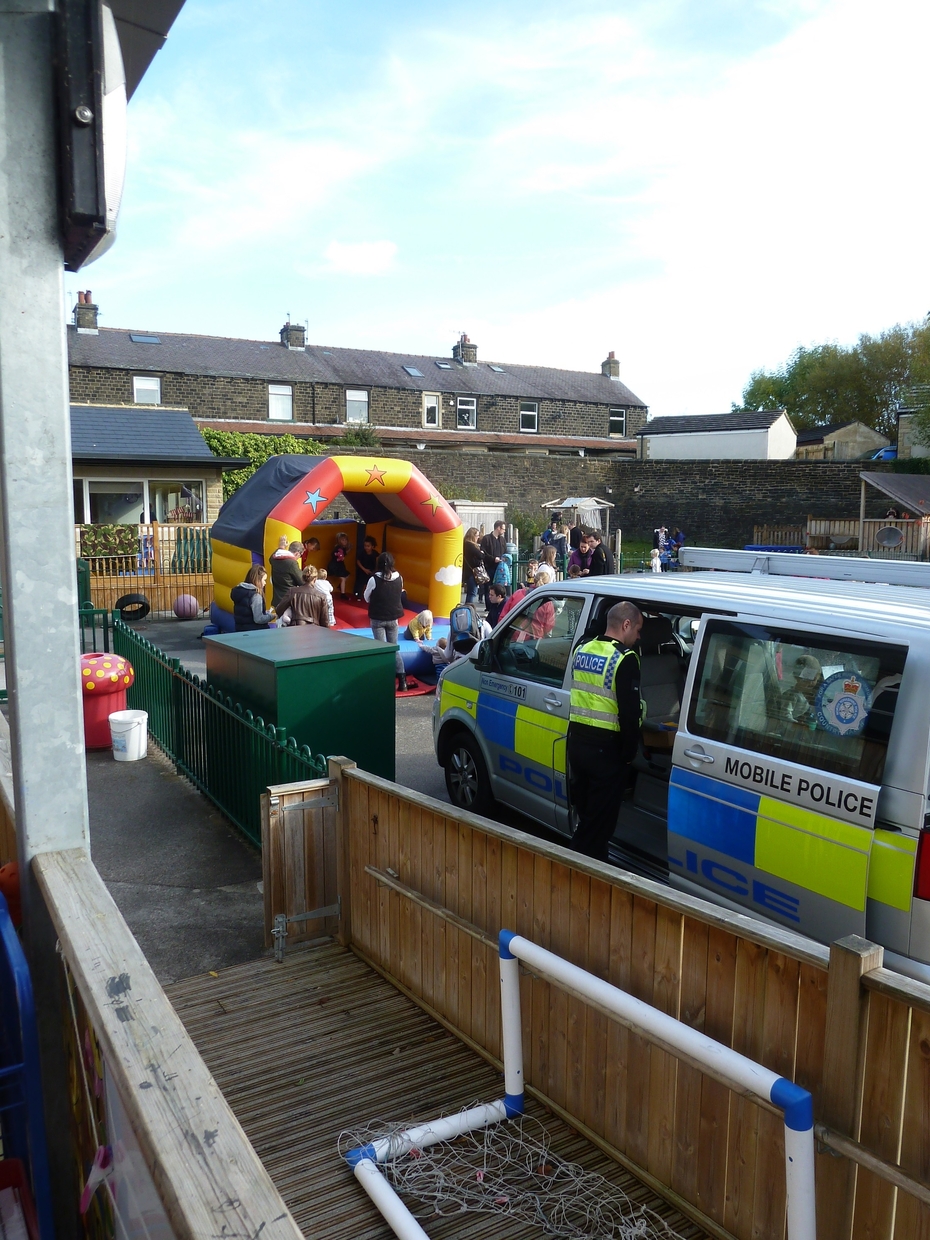 Craven College Sports Leader Volunteers
Craven College Sports Leader have been volunteers working at Parish for one afternoon a week all through the school year. They have developed their teaching skills, and at the same time, they have developed the fitness and sports skills of our children in Year 5 and 6.
They also help with the organisation of Sports Day each year in July. This is our opportunity to thank them very much for all their hard work.
Skipton Building Society Volunteers
The Number Partner volunteers from Skipton Building Society come into school every Tuesday afternoon, during term time, throughout the year to work with children in Key Stage 2 developing numeracy skills through using maths games.
Skipton Library Summer Reading Challenge
Skipton Library run a Summer Reading Challenge for children across the Skipton area every July and August. Children receive a certificate if they manage to read at least six books over the Summer holidays. More than 60 children took part last year. Lets see if we can increase the number of children taking part this year!
MC Sports Shop and Skip to School Uniform Shop Sponsor Parish Church Primary School
Thank you to MC Sports and Skip to School who provide our families with school uniform. They both sponsor our school by donating 50 pence to our School Fund every time an item of our school clothing, sporting a school logo on it, is bought. This year they are selling our sports T shirts in house colours. As soon as you know which house your child is in you can purchase a house t shirt at a reasonable price.
Craven Development Education Centre Support a Litter Picking Challenge
Our School Council are taking part in a litter picking challenge. Children of the School Council are working hard to support our local environment by trying to keep it litter free. We have been litter picking, at least once a fortnight, to help our environment and reduce the amount of litter locally. We have been working in the immediate area around school on Neville Street and Montgomery Street, Devonshire Street and the Ginnel Area.
We have also been invited to do some work in the Skipton Wilderness area.This project has been sponsored using equipment donated by Craven DEC.